Tuesday – February 13, 2018  •  6pm – 8:30pm
All are invited!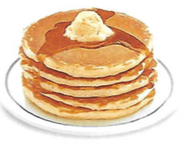 Not only will you be treated to some of the best pancakes, bacon and sausage known to man, you will also be treated to Amazing Live Music.
This is no ordinary church pancake party. Because, after all it's Fat Tuesday. When was the last time you consumed free pancakes to sensational live music?
Feel free to join us. Feel free to bring friends. Free Food. Free Music. Feel Free to wear a mask.